MyAFroTube is your place to share videos, audio, photos, and stories. Join now and get your own profile page, blog and unlimited media uploads!...
DRC candidate orders followers to stage jailbreaks to free detained colleagues
11 years ago | 7280 Views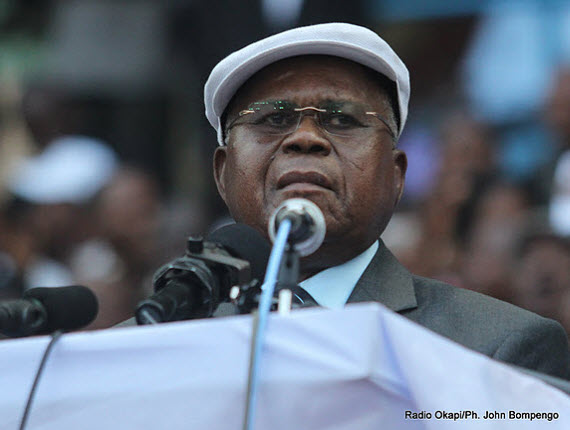 Democratic Republic of Congo's Congo's leading opposition presidential candidate has spent the first half of the month long electoral campaign in South Africa, but that did not stop him sending a bombshell from afar: Etienne Tshisekedi proclaimed himself president and ordered his followers to stage jailbreaks to free detained colleagues.
His declarations, made by telephone from Johannesburg and broadcast live on a Kinshasa TV station on Sunday, have angered people near and far, with some suggesting it is a political death warrant.
On Thursday, when he finally left South Africa and launched his campaign belatedly in the northern provincial capital of Kisangani, he issued more combative statements, inciting his followers to "terrorise them because they have been terrorising us for a long time".
"That's it. I'm voting for Kabila," one enraged former supporter fumed at the website Congo Siasa, referring to President Joseph Kabila.
Information Minister Lambert Mende called Tshisekedi's statements possible treason and criminal. He shut down the offending pro-Tshisekedi Radio Lisanga TV station.
The Ministry of Justice said it is investigating whether action should be taken against Tshisekedi, the 79-year-old venerable voice of opposition in DRC who is running for president for the first time.
On Friday, the prosecutor of the
International Criminal Court
​
,
Luis Moreno-Ocampo
​
, warned that the court in The Hague has jurisdiction in DRC.
Street battles
"We are paying particular attention to reports of inciting hatred, exclusion and physical violence by various political figures," he said.
While Tshisekedi remained in South Africa, the campaign at home has become increasingly violent, drawing concerned comments from dozens of civil society groups, the United Nations, the European Union, the African Union and the United States.
A UN report this week blamed most violence on politically manipulated security forces. Mende criticised the report, saying it wanted to make martyrs of the opposition.
Since the electoral campaign opened on October 28, Tshisekedi's supporters have had clashes, some deadly, with police and Kabila supporters in several towns.
Last week in Kinshasa, the capital, gunmen fired on Tshisekedi campaigners putting up posters, wounding two. In the southern mining city of Lubumbashi, Tshisekedi supporters had street battles with a rival opposition party.
Sixteen people were wounded. Young people in the eastern city of Goma took to the streets and gunfire erupted after popular folk musician Fabrice Mumpfiritsa was kidnapped, reportedly by government intelligence agents.
Mumpfiritsa, who had refused to sing songs supporting Kabila, was found three days later, legs and eyes bound and so badly beaten he had to be hospitalised.
US Ambassador James Entwistle wrote an article in which he exhorted all candidates "to put the good of the nation before personal, political ambitions" and to renounce the use of violence and incendiary statements.
Jets for campaigning
The November 28 elections for a president and for legislators are critical for the future of the mineral-rich but impoverished nation of nearly 72 million as it struggles to recover from back-to-back civil wars that killed an estimated five million. It drew in the armies of half a dozen countries before the conflict ended in 2003, though numerous rebel and militia groups still terrorise eastern DRC.
How the elections unfold will be a likely indicator of whether DRC is consolidating its fledgling democracy or returning to a state of widespread instability, according to the International Crisis Group.
Back in South Africa, Tshisekedi was meeting with members of the governing
African National Congress
​
as well as South African mining and agricultural companies. Spokesperson Leonard Mulunda said Tshisekedi was campaigning for support.
Other aides indicated that needed to be in the form of money, partly to fund chartered jets for campaigning.
The aides, who spoke on condition of anonymity because the issue is sensitive, indicated Tshisekedi had come to charter a jet for campaigning. They charged parties in Kabila's ruling coalition had commandeered all available planes in DRC - charges that have been denied.
DRC has few tarred roads and planes are the only viable means of campaigning in a country that straddles an area the size of Western Europe.
Civil aviation authorities also denied a claim that they had refused landing rights to Tshisekedi, when he failed to arrive in Kisangani for a rally Wednesday.
DRC analyst Jason Stearns, author of the book "Dancing in the Glory of Monsters", has predicted a close race, though Kabila appears assured of victory after Parliament revised the constitution to allow only one round of voting, instead of two.
The opposition acknowledges they need to field a single candidate to have any chance at beating Kabila, but personal ambitions have got in the way of any agreement. Tshisekedi is backed by 18 parties and is considered the leading opponent among 11 presidential candidates.
This is probably Tshisekedi's only shot at the presidency, given his advanced age. He formed Congo's first opposition party in 1982 to combat the longtime dictatorship
Mobutu Sese Seko
​
. Back in the 1990s he first declared himself president, saying Mobutu needed to be "rendered harmless".
A cause lost in advance
He again made the assertion during this year's campaign.
He claimed Kabila had lost all support and argued that "in a democracy, it is the majority who leads and I'm the head of the majority. So, I'm the president of [DRC], I am the actual head of state".
He went on to urge his supporters to forcefully free party members jailed in Kinshasa, Mbuji-Mayi and Lubumbashi, and to attack police or soldiers who tried to stop them.
If militants were not freed by Tuesday, he said his supporters should "mobilise everywhere and set free the supporters and other opponents and break all the prisons.
"And if, unfortunately, police officers and other soldiers come to bother them, then they should be taught a lesson. And if they flee to the camps, they should be hunted all the way out there and followed to their camp where they will receive a good punishment even in front of their wives and children!"
Such incitement has alarmed many who fear DRC's election could degenerate into a spiral of violence similar to the presidential dispute that ravaged Ivory Coast for months, killing thousands and displacing a million people before incumbent
Laurent Gbagbo
​
was bombed out of his underground bunker and forced to accept an electoral defeat.
One blogger at Congo Siasa lamented that Tshisekedi "has signed his political death warrant" and suggested his anger reflected hopelessness at fighting "a cause lost in advance". - SAPA
Tags: DRC
Comments